Surfing is hot, and wavepools are the latest surf technology innovation enabling everyone to become a decent surfer. No wonder public demand for wavepools is growing bigger and entrepreneurs are seeing the business potential. So imagine you have found a good location, an investor and you want to buy a wavepool? Which criteria should you & your team take into account? With this wavepool buying guide, you are already halfway:
1. Safety first
Safe surf sessions are a top priority. You want visitors to have a relaxed surf session, where surfers can't crash into any vertical walls or the bottom of the pool. You don't want to close down your facilities because of an accident. Check water depth, the technology being used and which hazards come along with them. AllWaves generates waves through a high-tech, safe and soft pillow at the bottom of the 4 meters deep pool. The water column moves in sync with the up and down movement of the pillow so no impact results when a curious surfer attempts to exchange a surf session for a diving session.
2. Natural look & feel
Make sure your visitors have a truly great and relaxed experience, forget there is a wavemaker and enjoy the natural landscape and surroundings. At AllWaves, the wavemaker is complete submerged, so all you see is a natural lake, which easily blends in the environment. Every surfer can at all times exit the water at all sides, with 360 degree surrounding gently sloping beaches, which is again, very safe.
3. Wave Quality
Make sure you can vary your waves. It is extremely important to have an as wide range of visitors as possible from beginner surfers to pro's. Validate if you can change speed, height, and most importantly, also shape of waves. With these you can keep both the beginners as the pro surfers satisfied. Everybody can progress at their own speed. Keep an eye on wave interval & backwash. Did you know that at AllWaves, all these wave parameters can be adapted with an intuitive app?
4. Energy Efficiency & Total Cost of Ownership
For both cost and sustainability reasons, choose the most energy efficient technology. Power your system with renewable energy for both cost & sustainability reasons. AllWaves uses a highly energy efficient hydraulic system working in resonance with the water, read more about resonance here.
The largest cost of a wavepool are the maintenance costs. Check if these are high, if they are included in the contract of the vendor and if the system is durable. Make sure if there are niche components, which could suffer from supply chain shortages. AllWaves only operates with marine-grade equipment, which have proved their durability in the offshore industry.
Check our infographic here below for a short summary of our wavepool buyer's guide or reach out to us for more questions.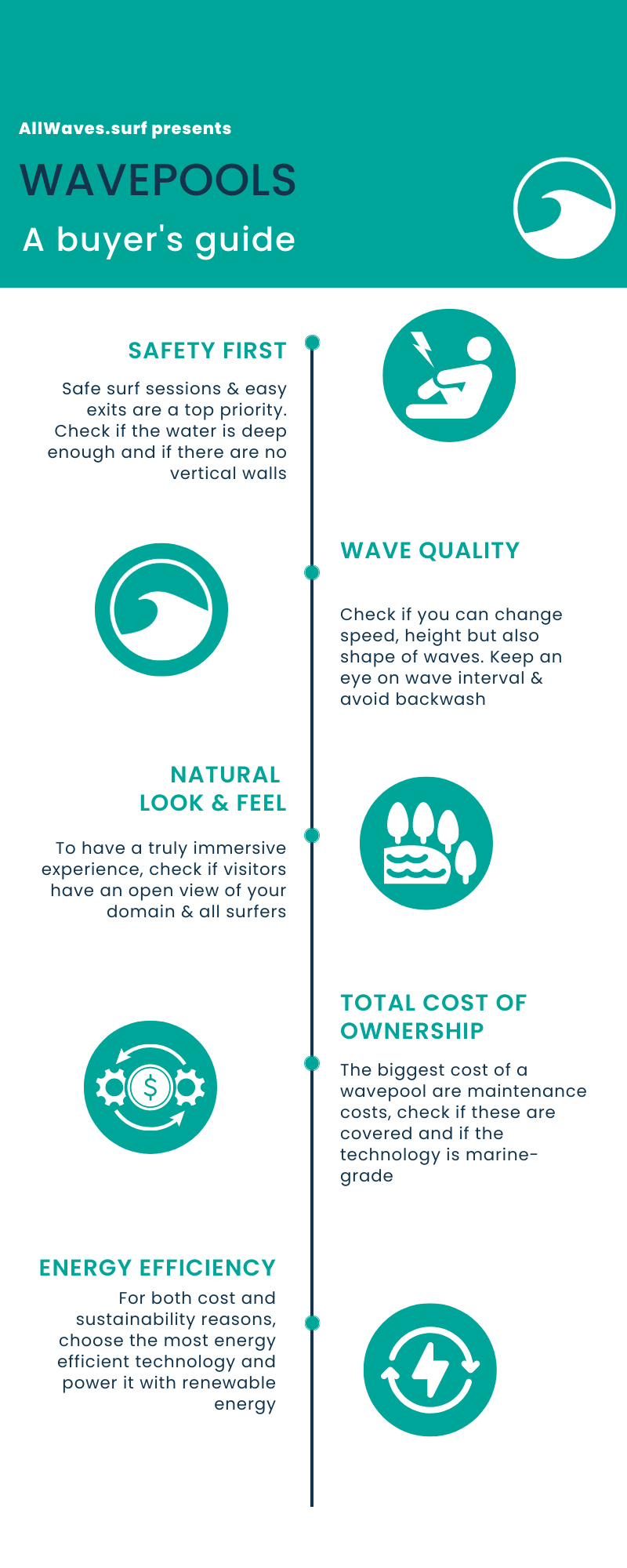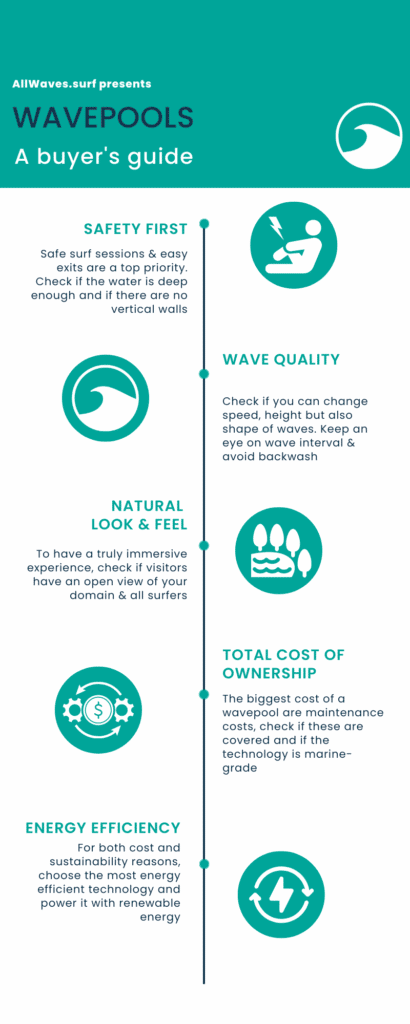 Keep surfing!
The Waveshapers